Working Bees and Meetings
This page will list the dates of future meetings and working bees.
Our garden is now 3 years old and really florishing with around 28 members. Below is a pic of some of our produce and an up to date look at the front section of the garden.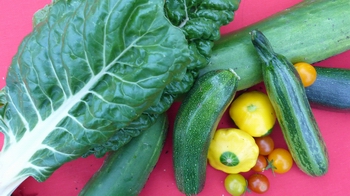 Working Bees
Hi everybody,
From mid October 2016 we will be meeting at the garden from 3pm to 6pm on Fridays . We will also be getting together on Saturday mornings between 9 and 12. This is so we can touch base, work in the garden, make some plans for the week ahead, general communication regarding the garden and brainstorm ideas. It will be great if you can make it on either day.
We are also opening the garden up on Tuesday mornings from 9am to midday, so feel free to come along to catch up and help out.
Monthly Meeting
Our next Monthly meeting will be held in the Garden, 15 Clifton Street, Sanctuary Point, on the second Wednesday of the month at 4.30PM. All members welcome.