Home
Our garden opened in late 2013 and since then we have been moving ahead in leaps and bounds. We have a vibrant committee, a wonderful location and we are ready to welcome the general public as members.
Visitors are most welcome, we would love to show you around so you can decide whether you would like to become a member.
The pictures below will give you some idea of the progress from the early days, to the present state of the garden.
Our first working bee was really wet and our second was really hot, however after we had finished, there stood five beautiful garden beds.
Russ and Jeff crimp the sheets ready for grinding. Mike and John grinding the sheets prior to bending the ends.
Mike and John bending one of the ends. Rik gives the boys a hand to assemble the first bed.

Third working bee down and a fair bit of production achieved, 8 beds completed, 4 filled with mulch and the sign erected.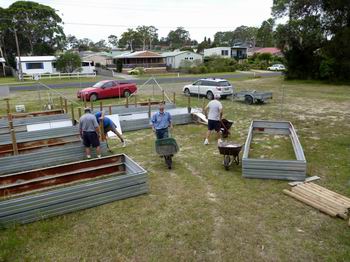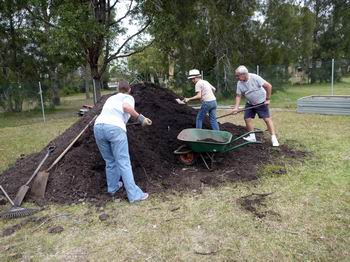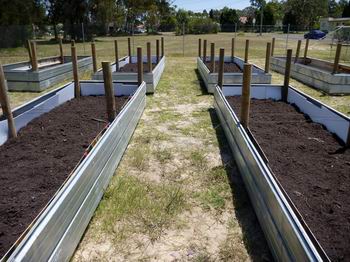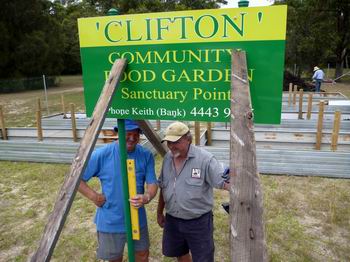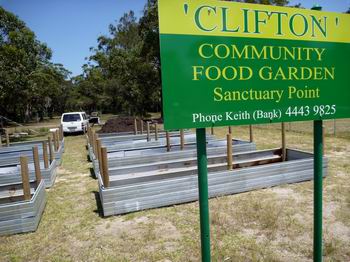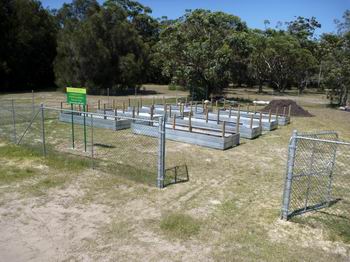 Another working bee behind us, all beds were half filled with mulch base and ready for growing material, 5 of 8 round beds were cut and ready for joining and our donated shed transported and erected.
Never tell the girls to "hover until needed", this is the result.
Our 5th Working Bee was another wet one. Only a couple of hours before we all ducked for cover and our warm dry homes. We managed to achieve a little bit, setting up the water tanks and adding some straw and soil to two beds.
We have had many working bees since this time, so I will add the pictures as we go along. The few pics below show the progress with painting the donated water tanks and building the structure over them to to hold the roof.
With the structure complete and painted, Mike plumbed the tanks so they are all linked together and will gravity feed the garden beds. John and Ellen installed the roof sheets, guttering and downpipes.
While all the construction was going on, Sommer, Linda, Rik and Jeff began planting the first two beds. Poor Allen then had to start filling the other beds, which is a hard thankless job. Good on you Allen.
Our garden is now 12 months old and really florishing with around 27 members. Below is a pic of some of our produce and a look at some of the revellers at our first Xmas get together.